Clubcommission
Clubcommission Berlin is the association of Berlin clubs, party and cultural event organisers, promoting the sector since 2000. We support our members with training development specific to the industry, consultancy, public relations, networking and framework agreements. As the voice of the Berlin club scene we work hard to ensure the recognition of our members' political and economic interests.
network for Berlin club culture
Cultural value and economic impact
Club culture is a cultural asset that significantly enriches Berlin's social, cultural and economic life. Since 2000 Clubcommission Berlin e.V. has promoted and supported the now 140 members in the Berlin club, festival, open air, party and cultural events organisers.  In so doing, our association has become a guide for other metropolises across Berlin Brandenburg and Germany who have set up in recent years. Berlin has a reputation for a having one of the most multifaceted music scenes. The economic impact of the music scene has helped shape Berlin's development as a whole. Clubs, festivals and all cultural events in Berlin are laboratories for artists and producers. Yet, they are idea pools for creatives in fashion, film, gaming and modern art too. Every day, new connections are made, collaborations and projects created; niches fight their corners and new trends are set. As culture draws people to Berlin, other industries benefit too: tech, startups, gastronomy and tourism all benefit.
Our goals and services
Through its work, Clubcommission is laying the ground for the preservation, development and future of the Berlin club scene. We speak on behalf of the many voices of this sector. We promote the sectors' political, administrative and economic interests to ensure their recognition. We are the main point of contact for the press, authorities, institutions and service providers. We represent our sector in conferences, city planning, economic events, in response to specific political events and abroad.
Working groups
Culture working group (AG Kultur)
This project group on "culture and economic promotion" looks across the many public budgets and administration. It suggests ways in which the club and event organizers can meaningfully participate and benefit from them.
Open air working group (AG OpenAir)
This project group focusses on spontaneous events in public spaces like parks, commons and in hidden locations. The aim of this group is the avoidance of noise and rubbish, as well as the enforcement of event organizers' rights.
Noise working group (AG Lärm)
The "noise" project team works to prevent the shift of clubs out of the city centre. Clubcommission communicates with authorities, institutions and arranges experts, legal assistance and press representation for members.
Political working group (AG Politik)
Berlin needs a masterplan for the development of this sector in the coming decade. The campaign MUSIK 2020 BERLIN is the vision agreed and worked upon by Clubcommission, Labelcommission Berlin and over 400 Berlin music companies. Clubcommission is also a founding member of the Live Musik Commission, the association of music venues in Germany.
City development working group (AG Stadtentwicklung)
Clubcommission works to make politics and administrations aware of the value and needs of the music and cultural scene. Unfettered gentrification is not the solution. We want to work to influence planning applications and use of city spaces. Together we can give a more complete answer with citizen initiatives, parliamentarians, business people and administrations to the question: How we want to live in our cities?
Projects and initiatives (selected)
Consulting and professional development
ClubConsult is Clubcommissions' consultancy offering a wide range of services from energy management, new technologies, finance (including funding and insurance) as well as legal advice. ClubConsult brings with it years of experience, broad expertise in the sector and builds the right bridges to other industries. This allows its clients to achieve business process improvement in the running of clubs and events, reduces costs and energy usage in the long term. Join us at Clubcommission! The application forms and our articles of association can be found
here
. [caption id="attachment_877" align="alignnone" width="300"]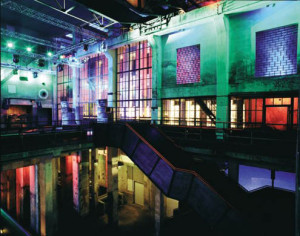 Berghain club interior, Berlin, where DJ Mat Jonson performs minimalist techno[/caption]
Berlin
is the
capital
of
Germany
and one of the 16
states of Germany
. With a population of approximately 3.5 million people, it is the second
most populous city proper
and the seventh
most populous urban area
in the
European Union
. Located in northeastern Germany on the banks of Rivers
Spree
and
Havel
, it is the centre of the
Berlin-Brandenburg Metropolitan Region
, which has about six million residents from over 180 nations. Due to its location in the
European Plain
, Berlin is influenced by a
temperate
seasonal climate. Around one-third of the city's area is composed of forests, parks, gardens, rivers and lakes. First documented in the 13th century and situated at the crossing of two important historic
trade routes
, Berlin became the capital of the
Margraviate of Brandenburg
(1417–1701), the
Kingdom of Prussia
(1701–1918), the
German Empire
(1871–1918), the
Weimar Republic
(1919–1933) and the
Third Reich
(1933–1945). 
Berlin in the 1920s
was the third largest municipality in the world.
After
World War II
, the city was divided;
East Berlin
became the capital of
East Germany
while
West Berlin
became a
de facto
West German
exclave
, surrounded by the
Berlin Wall
(1961–1989) and East Germany territory.
Following
German reunification
in 1990, Berlin was once again designated as the capital of united Germany. Berlin is a
world city
of culture, politics, media and science.
 Its economy is based on
high-tech
firms and the service sector, encompassing a diverse range of
creative industries
, research facilities, media corporations and convention venues. Berlin serves as a continental hub for air and rail traffic and has a highly complex public transportation network. The metropolis is a popular
tourist destination
.
 Significant industries also include
IT
, pharmaceuticals, biomedical engineering, clean tech,
biotechnology
, construction and electronics.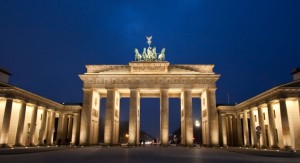 Modern Berlin is home to world renowned universities, orchestras, museums, entertainment venues and is host to many sporting events. Its urban setting has made it a sought-after location for international
film productions
.
The city is well known for its festivals, diverse architecture, nightlife, contemporary arts and a 
high quality of living
.  Over the last decade Berlin has seen the emergence of a cosmopolitan
entrepreneurial
scene
.